The Higher Education Students' Financing Board (HESFB) has beat nine other Government Ministries, Departments and Agencies (MDAs) to the Citizen's Choice Awards at the second edition of the e-Government Excellence Awards hosted by the National Information Technology Authority (NITA) of Uganda.
Under the Students' Loan Scheme, HESFB has implemented a number of e-Services including the Integrated Loan Management Information System (ILMIS) that facilitates Loan Applications and Loan Management.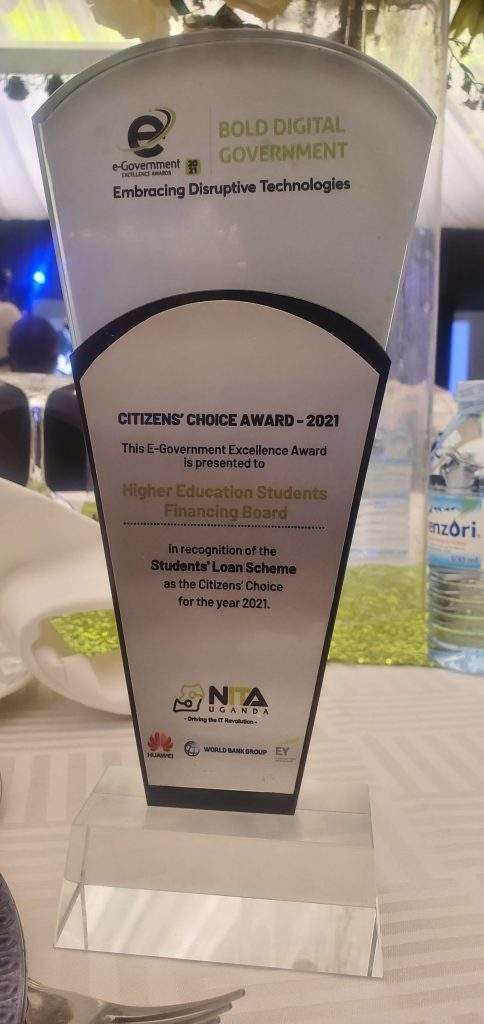 The National Information Technology Authority (NITA) Uganda organized the Awards under the theme, "Bold digital Government, embracing disruptive technologies" — to recognize Government MDAs that have played a remarkable role in availing online government service (e-Services) to the public.
HESFB was nominated in the Citizen's Choice Awards category alongside e-Services of key Government MDAs including Uganda Revenue Authority, National Social Security Fund (NSSF), Uganda Registration Services Bureau (URSB), Ministry of Health and Kampala Capital City Authority (KCCA). Others are Inspectorate of Government, the Directorate of Citizens and Immigration Control (DCIC), the IFMIS Suppliers Registration system at the Ministry of Finance Planning and Economic development and Report Corruption System of the Anti-Corruption Unit of State House.
According to NITA, the awards are in line with the third National Development Plan Goal that seeks to improve Public Sector Response to the needs of citizens and the Public Sector — and they are also in line with the NRM Manifesto 2021/26 that seeks to Digitize Service delivery processes across all government entities through the adoption of new ways of delivering services.
The HESFB Executive Director, Mr. Michael Wanyama called the Award an "honor to be recognized and appreciated for the investment the Board is making in streamline e-Services in the mandate to increase access to Higher Education." "We would like to thank all those who chose and voted the Students' Loan Scheme and this is a testimony that our services are enabling access to study loans especially at the onset on Covid-19," said Mr. Wanyama.
The voting which was launched to the public on December 2nd, 2021 and closed on December 8th had members of the public vote on phone through the access code, *260#.
The E-Government awards are organized by NITA-U in partnership with the World Bank Group, Huawei, Ernst & Young and the function was graced by the Minister of Information and National Guidance, Hon. Dr. Chris Baryomunsi.